Another project for BR.

Sauhund, a puppet show. My DingStars will also appear in this show. A new regular feature will be the Socken-Fans, characters clearly to identify as sock puppets . A bunch of fans waylaying the guest star at the back door of the sound stage. I'm doing my best to make the most of those normally rather primitive sock puppets and make them fully-fledged characters.
An example from sketch to final puppet:
Rudi, a Bavarian Prototype.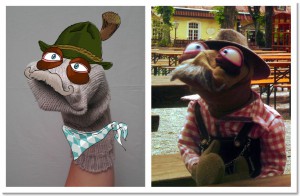 And here the whole cast so far.