Oct 26, 2015 @ 09:39
Oof, I won't lie – I am a bit 'kaputt' right now. At the beginning, I was a bit shocked hearing that a lot more workshops were to be held than originally planned. Demand was so high that instead of two workshops (one on Saturday, one on Sunday), we now offered five!
However, Looking back I would not have liked to cancel any of them. The amout of creativity that the particpants showed was really incredible. In 2 days, nearly 40 really expressive puppet characters saw the light of day! Lots of thanks to the participants, and kudos also to bumm film, who offered this workshop during their DVD-release party of "Mara und der Feuerbringer".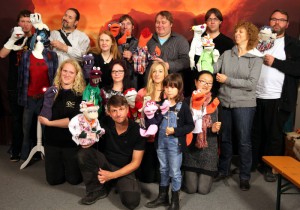 The sunday's workshop's puppets – and their mothers and fathers.