Ischgl, Austria, November 27th, 2015. On Location for the Alps Documentation.

Going to Austria was a rather weird trip: the van was full to the brim, and two corpses lying at the very top. Of course, these were Dummies, but I still covered them in some blankets to make it look less macabre. In the hotel, I put them to their temporary rest on the sofa. Scenes from a set-decorator's life.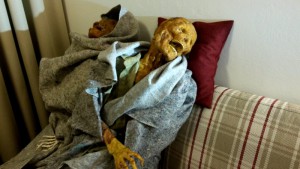 Just in the middle of a skiing region, we continue shooting a scene which we started in sunny September. In that scene, a group of celtic merchands passing the alps was taken off-guard by a blizzard (take some handfuls of fake snow and add some VFX). Now, it is time to show what happened to the poor souls that did not make it.
The day before, the two dummies had accompanied us in the ski-lift, climbing up to 2600m. There, we had dressed them with costumes provided by our historical advisors from Kaptorga. The makeup department literally had lent me a hand (and a head, both very realistic silicone props). After having attached these to my two buddies, I had put them into the snow.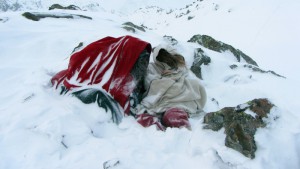 The weather was quite nasty. An icy wind was constanty sweeping powdery snow across the plains. Best conditions for really having my two corpses snowed in, covered by a perfect, natural and untouched layer of fresh snow – in a way that I could hardly create artificially.
The plan worked out quite well. When we came back today (this time the weather was marvelous) we hardly found them again. Snowbound…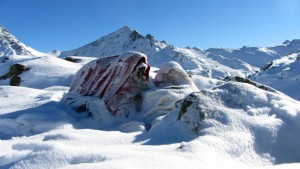 The camera (and the crew) approached from wide shots to medium shots, keeping the snow in the visual field untouched. For the close-ups, I removed a bit of the snow from the faces.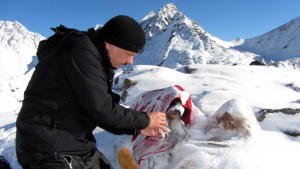 After we finished shooting, we had to remove our dummies. You should have seen the look on the faces of the skiers…